BBC's medical thriller, Trust Me, filmed in Glasgow and Edinburgh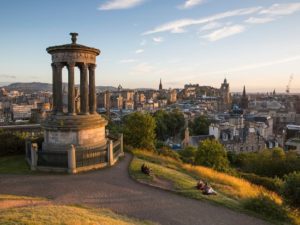 Jodie Whittaker adds: "I was born and brought up in Edinburgh and went to drama school in Glasgow so I feel a real connection every time I come home. It was nice to see my family and friends in between shooting days. We even shot a scene on Portobello beach in Edinburgh which is literally where I grew up! Edinburgh is a beautiful city that's steeped in history. It's about time it got some more screen time. There's a volcano in the heart of the city, a castle, ancient architecture and rolling hills, so it really is a city that deserves to be seen on screen more."
Trust Me tells the story of nurse Cath Hardacre who, in a moment of desperation after being fired, assumes the identity of one of her close friends to accept a job at a hospital in Edinburgh.
The show's locations team was comprised of James Muirhead (Paranoid) and Amy Palin-Tune (This is England '90).
High-end television production in the UK is incentivised by a 25% tax rebate on filming. A minimum spend of GBP1 million per-broadcast hour is required to access the incentive, which has been awarded to such recent projects as Poldark and Fearless. Additional funding can be obtained via Scotland's GBP3.25 million Production Growth Fund.
Creative Scotland will once again be bringing a contingent of Scottish film organisations to the next edition of FOCUS on 5/6 December 2017. Registration opens in early September and is FREE for industry professionals. 
---
By Tom Deehan, The Location Guide