Dec 04 2018
12:00 - 13:00
Presentation Bay
Discover Ukraine (Exhibitor Presentation)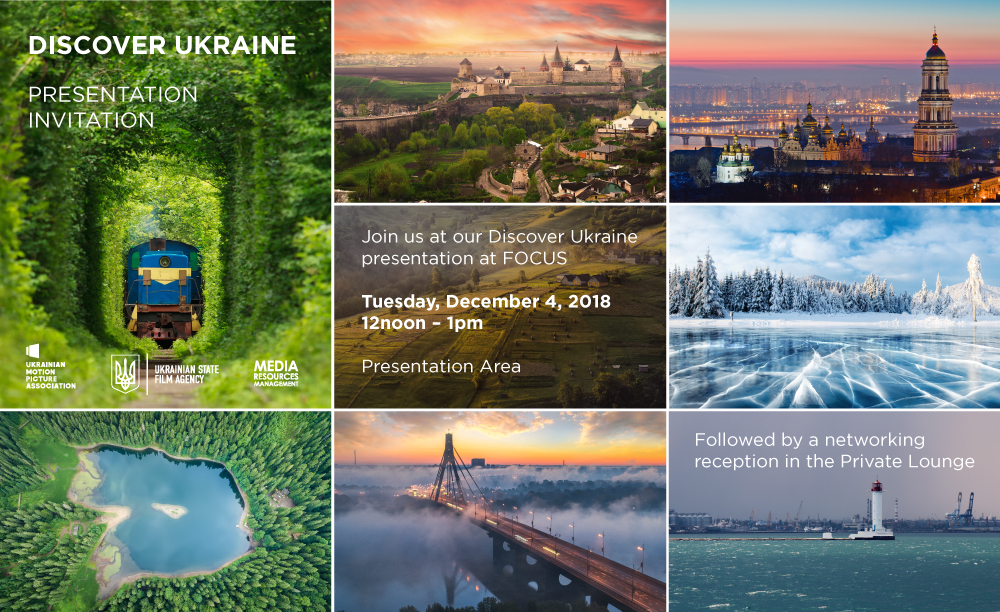 At FOCUS, we are happy to present Ukraine as a powerful production hub with an updated legislative environment, financial incentives, lots of picturesque, unique locations and arsenal of modern services and production facilities.
For the last two years the interest of international partners in co-productions with Ukrainian production companies, as well as the international recognition and distribution of Ukrainian films have risen significantly. Ukraine has become the top place among European countries as for production quality-to-price ratio.
During the presentation you will get comprehensive information about the Ukrainian film industry including:
the latest update about legislation in the sphere of cinematography, including cash rebates for international producers and other incentives
the recent breakthrough of Ukrainian film industry
why Ukrainian production service companies became the best in the world and how to get world class and cost effective services in Ukraine
detailed information about Ukrainian regions, including diversity of locations, production facilities, rates, and communication with local film commissions
the most successful Ukrainian films and co-production projects
why more and more word-famous film stars choose Ukraine
Speakers
Anna Volkova, Lead Project Manager, Ukrainian Motion Picture Association
Kateryna Vyshnevska – Head of Development and Co-Productions, FILM.UA Group
Due to vast variety of locations, low production costs, professional and skillful production crews Ukraine attracts a lot of foreign producers as 'that very place to film in'. Recently such well-known world filmmakers as Agnieszka Holland (director of 'Gareth Jones', 2018), Jean Reno (starring in 'The Last Step', 2019), Thierry Arbogast (cinematographer of 'The Last Step', 2019) and others have come to Ukraine to film various projects. For the last 20 years more than 50 international and foreign projects were filmed here (excluding Russia-produced projects). Among the most noticeable one should mention 'Sharpe's Honour' and 'Sharpe's Battle' (1994-1995, USA) with Sean Bean, 'Black Sea Raid' (1997, USA), 'The Legend of 1900' (1998, Italy), 'House of Flying Daggers' (2004, China, Hong Kong), 'Bitter Harvest' (2016, Canada) and many others. Ukrainian postproduction and production service companies are developing into some of the best in the world. The number of successful international co-productions has increased noticably('A Gentle Creature' by Sergei Loznitsa, 'Čiara/The Line' by Peter Bebjak, 'Frost' by Šarūnas Bartas, 'Easy' by Andrea Magnani, 'Woman at War' by Benedikt Erlingsson).
Read an interview with Philip Illienko, Head of the Ukrainian State Film Agency here