Dec 05 2017
13:00 - 13:45
Presentation Bay
Filming in Sri Lanka (Exhibitor Presentation)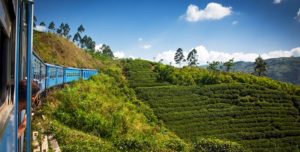 Sri Lanka Tourism Promotions Bureau will be hosting a FOCUS session dedicated to the topic of Sri Lanka's potential for film tourism and the locations that are available to suit projects from around the world.  Joining the Bureau will be Crew for Shoots, Sky Entertainers, Asian Film Location Services and Working Ants Productions.
"Sri Lanka has been hosting filmmakers from around the world since the 1950s. Our island nation offers a variety of spectacular locales from misty mountains with lush greenery, natural waterfalls, tropical forests, exotic wildlife and golden sun kissed beaches. Ancient cities and bustling modern cityscapes with architecture of the colonial era, influenced by the Portuguese, Dutch and British. Most locations are approximately two hours from each other, making Sri Lanka the ideal film location destination." Read more here  
Come and find out all about the versatile locations, incentives and benefits of shooting in this amazing country.
Speakers:
Chandran Rutman – Chairman/Film Director/ Producer
Thishantha Shyaman Premasundara – Film Director/ Producer, Frames TV and Film Production Services
Sunil Rathnayake – Global Film & Television Consultant for Sri Lanka Tourism & Chairman/CEO, Teleview Worldwide
Priyanga T. Kumarasiri – Crew For Shoots

---
To attend this session you will need to REGISTER as a FOCUS industry delegate. It is completely FREE.