Alison Small
CEO, The Production Guild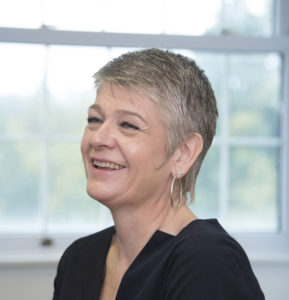 Since 2012 Alison has been CEO of The Production Guild and under her leadership the organisation has gone from strength to strength. As CEO, Alison is responsible for raising the profile of the organisation and its members. She works with industry bodies both in the UK and internationally to ensure we are protecting the future success of the UK production industry and as a result protecting future work for our members.
Alison understands that sustaining the supply of trained world-class crew is essential for the industry.  She currently sits on the BAFTA Learning and New Talent Committee and the Creative Skillset Film Skills Council.
She is particularly committed to promoting a diverse and inclusive workforce within production and believes that talent should be recognised and supported so that individuals can progress in the film and TV industry no matter what their background.
Alison started her career in the film industry in the 90s at the British Film Commission initially as its events and marketing co-ordinator, and over the years progressed to Senior Executive International Production at the UK Film Council. Her work involved attracting international productions to the UK and working with the industry and Government departments to ensure the UK remained competitive and film friendly for both international and domestic UK productions. She was instrumental in working directly with producers, production executives and studio heads and with lead organisations in the UK film production sector.
Alison also worked in Los Angeles as a project manager for MediaXchange, and been a freelance consultant and project manager to the international film and TV production communities, working for clients with interests in Europe, USA, Middle East and Asia. She was also Director of the Skillset Craft and Technical Skills Academy working closely with ScreenSkills, studios and film production companies.
As a member of BAFTA, the BFI, the Royal Academy, the Tate, and the Institute of Ideas, combined with a passion for politics and freedom of speech, she is always up for a trip to the theatre, or an argument in the pub.