Andy Doree
Co-Founder Hell Fire!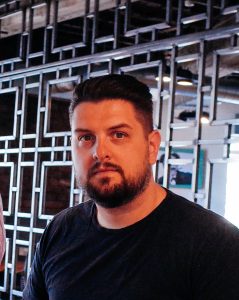 Andy Doree saw in the millennium as an apprentice joiner, before running a family building firm in Morley – until the recession had other ideas. With a new born son and a mortgage to pay, he decided his future lay in the classroom both as teacher and student, completing a teaching degree in 2011.
Throughout his 20's, Andy remained a passionate and energetic storyteller, always keeping pen to paper, constantly developing his writing in both television and novel form, unable to stop his brain firing ideas out left right and centre.
In 2009, a ten-pin bowling alley in Leeds was the location that a fresh faced Andy met an up and coming young director called Nate Camponi. It was during many hungover Sunday morning conversations that his writing began to take shape, with a steady flow of bacon sarnies and constant encouragement from Nate.
From then on, they would collaborate on many projects together, conjuring up real world stories, characters and scenarios often based on Andy's experiences in the building trade and education. It was this passion for honest, regional, working class narratives that quickly saw saw their micro-budget pilot Make it Plumb broadcast on local TV to a collective audience of 400k. Always the grafter, it was back to continuously writing, honing the craft and building a strong network of likeminded partners across the industry.
Fast forward to 2019, he is father to Ryan and Ted, a published author and commissioned script writer. Now, as co-founder of Hell Fire! finding fresh new voices and writing talent alongside developing their own projects is the focus, using the brand new Leeds-based production company as a way to uncover amazing stories from the new, undiscovered grass roots writers he believes in so much.
Sessions with Andy Doree