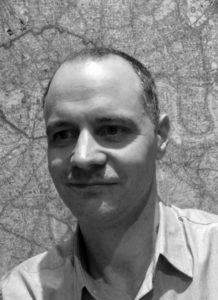 Andy Noble is a Producer and Line Producer with dual British / Irish nationality, based in London. With over 17 years experience in the film industry Andy has worked with both established and up-and-coming talent on feature films, feature documentaries, TV dramas and short form works. He has filmed extensively in the UK as well as in Europe, India and the Caribbean.
Andy most recently Co-Produced 'Film Stars Don't Die in Liverpool' with producers Barbara Broccoli and Colin Vaines, directed by Paul McGuigan. Starring Annette Bening, Jamie Bell and Julie Walters 'Film Stars' is the true story of the unexpected romance between a young Liverpudlian actor and a former icon of the golden age of Hollywood. It is an Eon Productions film, co-financed by IM Global and Lionsgate. It premiered at the Telluride and Toronto Film Festivals 2017.
In 2015 Andy Co-Produced Turner-nominated artist Jake Chapman's debut long-form work 'The Marriage of Reason & Squalor' with Producer Colin Vaines for Sky TV. Starring Rhys Ifans and Sophie Kennedy Clark, it premiered in its international feature cut at the Edinburgh Film Festival and as a four-part serialisation in the UK on Sky Arts in June 2015.
Andy was Co-Producer on Director Stephen Kijak's feature documentary 'Back Street Boys: Show 'Em What You're Made Of' with Producer Mia Bays for Pulse Films, which had a successful and innovative multi-platform international event cinema release in February 2015.
Andy was Line Producer on Pulse Films / Film4 / BFI's multi award-winning feature '20,000 Days on Earth' which premiered at Sundance and Berlin 2014 and was nominated for two BAFTA awards. It was one of the most successful documentary releases of 2014 with revenues driven by an original social media fan campaign and a unique simulcast live cinema performance and Q&A.
Andy's debut feature as Producer, 'Extraordinary Rendition', starring Andy Serkis and directed by Jim Threapleton, premiered at the Locarno International Film Festival 2007 where it was nominated for the Golden Leopard. It was nominated for outstanding achievement in Production at the British Independent Film Awards and went on to play at many international festivals. It has been sold for distribution to 27 territories, including North America. It screened on BBC1 in the UK following a special screening at the Houses of Parliament, attended by MPs and high-profile campaigners.
Andy has also produced eight short films (including fiction, documentary and animation), which have won numerous awards and have played at over 150 international festivals.
His extensive work on music videos has seen him produce in the UK and overseas for artists including Foals, Wretch 32, Tinchy Stryder, Bombay Bicycle Club and Metronomy. He also has wide experience of producing online content, commercials and corporates for production companies such as Pulse Films and 42.
Prior to Producing & Line Producing, Andy was a Development Executive at Ultrafilm Ltd, working on feature film projects with high-profile UK talent.
Sessions with Andy Noble
Dec 05 2017
09:45 - 10:45
Calgary Main Theatre