Fenia Cossovitsa
Producer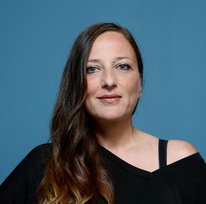 Fenia Cossovitsa is an acclaimed Film Producer with many years of experience in the development, shooting and post-production of feature films, documentaries, TV programs and other audiovisual projects with a background of over 30 Greek and international feature films, TV series and documentaries in her resumé, working with such internationally acclaimed filmmakers as Peter Bogdanovic, Jonathan Nossiter, Tony Gatlif, Dominik Moll and Delphine and Muriel Coulin.
Awards and recent filmography : 6 awards at the Hellenic Film Academy Awards (J.A.C.E), 4 awards for POLYXENI by Dora Masklavanou, Best documentary (I put a spell on you) "Leica Discovery Award" at Critic's week Cannes 2018 for HECTOR MALOT – The last Day of the Year" Fipresci Award at Thessaloniki International Film Festival for the film BLIND SUN, Audience awards in Thessaloniki International Film Festival for the feature films I still hide to smoke by Rayhana and the Other me by Sotiris Tsafoulias and Best first time director and Wift Award for COSMIC CANDY by Rinio Dragassaki .
Since 2018 she coproduced and line produced "EDEN" a TV series by Dominik Moll (Atlantique Productions, Lupa Films, Port Au Prince) for ARTE which will premiere in Competition section of Series Mania 2019, she line produced the Greek shooting of the TV series TREADSTONE (Universal TV) and she is currently in production (as coproducer and line producer) the TV series "TEHRAN" by Daniel Syrkin for the Israeli broadcaster KAN and Cineflix Canada.
Fenia also produced the 1st TV series backed by COSMOTE TV (the major cable platform in Greece) titled ETEROS EGO – LOST SOULS by Sotiris Tsafoulias which was broadcasted in June 2019.
Sessions with Fenia Cossovitsa