Fiona Francombe
Site Director, The Bottle Yard Studios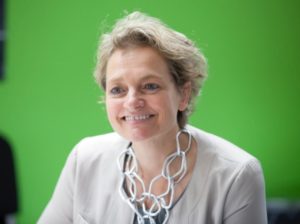 Fiona Francombe is Site Director of The Bottle Yard Studios in Bristol. She began her career in theatre (including Manchester Royal Exchange and the Royal Shakespeare Company), then joined the BBC's Drama department in London to work on their high-profile drama productions. Several years later she moved to Bristol to became a freelance Location Manager, spending 14 years working in Bristol, Bath and the West Country on credits including Casualty, I Saw You, Bertie & Elizabeth, Teachers, Persuasion and Lark Rise to Candleford.  
Fiona was instrumental in establishing The Bottle Yard Studios and has managed the seven acre site since the Bristol City Council initiative opened in 2010 with the aim of boosting levels of film and TV production in Bristol, following the departure of some of Bristol's longest running titles to Wales, such as Casualty and Being Human. She has built it into the largest dedicated film and TV studio facility in the West of England, a thriving production hub with a proven track record of accommodating high calibre titles from the UK and overseas. As well as incoming productions, it is also home to a community of around 20 on-site businesses delivering specialist creative, digital, technical and audio/visual expertise.
Fiona sits on the Board for The Production Guild of Great Britain, the Royal Television Society West committee, the Clifton College Council and on other strategic boards and panels both within the television industry and in Bristol itself, including the BBC Partnership Talent Group.
Made at The Bottle Yard Studios
Recent productions made at The Bottle Yard Studios include: Poldark (BBC One), The Crystal Maze (Channel 4), Broadchurch (ITV), Three Girls (BBC One), Ill Behaviour (BBC Two), The White Princess (STARZ), Sherlock: The Abominable Bride (BBC One), Trollied (Sky1), Crazyhead (E4/Netflix), The Living and the Dead (BBC One); We Can Be Heroes (dir. Claire Downes); Andy's Prehistoric Adventures (CBeebies), Golden Years (dir. John Miller), Galavant (ABC Studios), Wolf Hall (BBC Two), The Lost Honour of Christopher Jefferies (ITV)  
Sessions with Fiona Francombe
Dec 05 2017
17:35-18:30
Calgary Main Theatre