Harriet Lawrence
Location Manager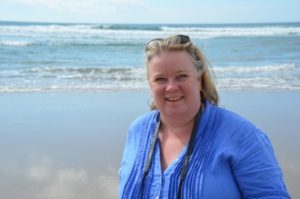 Production Guild Inspiration Award 2016, in association with Working Title
---
I  have  been  Location  Managing  for  20  years  starting  in  commercials  in  the  1990's   and  have  found  the  moon  on  Earth,  Scotland  inside  of  the  M25,  the  Maldives  in  a   Heathrow  hotel  and  Wolverhampton  in  Central  Scotland:  I  have  filmed   underground,  over-­‐ground,  on  beaches,  mountains,  prisons  and  stately  homes.
I  have  worked  on  all  sorts  of  TV  dramas,  films,  stills  shoots  including  My Cousin Rachel, Suffragette,   Burton  and  Taylor,  Fleming,  Parks  and  Recreation,  Henry  VIII,  all  the  Outnumbered  series,  setting  up  the  first  series  of  Downton  Abbey  and  all  Stephen  Poliakoff's  films  of  the  last  10  years  including Dancing  on  the  Edge. 
On  Suffragette,  I  took  the  crew  into  the  House  of  Commons  for  4  days  filming  of   rioting  suffragettes.  The  first  feature  film  to  ever shoot  there  –  6  months  prep,  a   few  grey  hairs  later,  history  was  made.
This year I have been shooting on location for Entebbe (Working Title) and Overlord (Bad Robot/ Paramount)
I  also  run  the  Assistant  Location  Managers  Training  Course  for  the  Production   Guild  –  something  I  have  done  for  some  years  previously  with  Creative Skillset  and  Film   London.  I  relish  training  the  next  generation  of  LM;  about  65+  of  them,  many   who  are  now  moving  on  up  to  Location  Managing  themselves  now.  My  young  son   who  is  being  trained  to  put  up  Unit  Signs  and  understand  a  schedule  and  budget   thinks  I  work  in  a  trailer  park!  My  partner,  who  also  works  in  the  industry,   thinks  I  look  after  parking  and  toilets.  The  truth  is  of  course a little more complicated and I wouldn't have it any other way.
Sessions with Harriet Lawrence