Julie Baines
Producer, Dan Films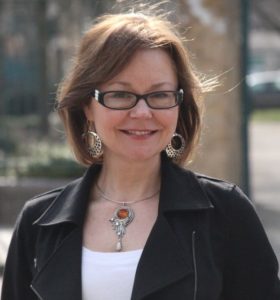 Julie Baines has had an extensive career in the film industry and is recognised as a leading figure in both British and multi-party co-productions. She founded the independent production company Dan Films in 1994 and has since developed and produced a diverse range of productions with both new and veteran directors including Nicolas Roeg, Peter Bogdanovich and Deepa Mehta. At the end of 2014, Julie won the prestigious Argonon Women in Film and Television Contribution to the Medium Award.
Having started out in production, she has the rare ability to cross all the disciplines that producing entails, from development to finance and production, and is passionate about spotting and nurturing new talent. Julie's first feature as Producer, 'Butterfly Kiss', was directed by Michael Winterbottom and written by Frank Cottrell Boyce, and was the catalyst for both their very successful careers in the film industry. She launched the talented writer/director Christopher Smith with the film 'Creep' and has continued to collaborate with him over several years. Their most recent venture, 'Detour' premiered at the Tribeca Film Festival. A highly original US set thriller, it stars three of the most exciting young actors in the film industry at the moment – Tye Sheridan (Ready Player One), Bel Powley (Diary of a Teenage Girl) and Emory Cohen (Brooklyn).Julie's development slate at Dan Films includes a diverse range of genres andbudget levels, from the family adventure film 'Four Kids and It', adapted from the novel by Jacqueline Wilson, to Chris Smith's international thriller 'The Undertaker'. She has also been Executive Producer on a number of films, including Anthony Haden-West's challenging feature documentary 'Forgive Us', which explores the global trend in religious fundamentalism after 9/11. In addition to her film work, Julie produced a 5 part TV series with puppets about the life of Charles Dickens, which was broadcast on the BBC and screened at a special gala event at the BFI Southbank as part of the UK's Dickens bicentenary celebrations.
Having a commitment to training, she regularly mentors emerging directors and producers and guest lectures on film courses in the UK, in particular at the National Film and Television School. She is also a Trustee of the arts charity Chisenhale Art Place.
Sessions with Julie Baines