Katie Swinden
Managing Director, Fifty Fathoms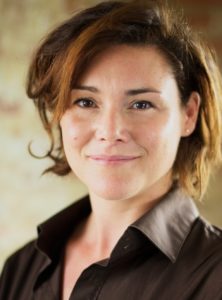 Katie Swinden runs Fifty Fathoms with Patrick Spence . She is in early production on THE EDDY for Netflix which tells the story of a jazz club set in contemporary Paris. The eight-part series will be written by Jack Thorne and directed by the Academy Award winning Damien Chazelle.
She recently executive produced GUERRILLA for Sky Atlantic and Showtime, written by the Academy Award winning John Ridley and Misan Sagay and directed by John Ridley and Sam Miller, starring Idris Elba and Freida Pinto.
Katie produced MARVELLOUS, Fifty Fathoms' debut production, in 2014. Prior to this, she produced RTS award-winning PEAKY BLINDERS for BBC Two, and series one and two of the Emmy–nominated and RTS-winning LUTHER for BBC One. In between, she was made an Executive Producer at Left Bank Productions in 2011.
Katie started her producing career in 2007 – following her work in development at Pearson Television and as a script editor for Yorkshire TV, BBC Drama and Kudos Film & Television –  when she produced the sixth and seventh seasons of SPOOKS [MI5 in the US], which received BAFTA & International Emmy nominations.
She has also worked extensively with the Latimer Group, leading schemes to help young talent from non-traditional media backgrounds make their first steps into the industry. In December 2014, Katie received the ENVY Producer Award at the 2014 Women in Film and Television Awards for both her body of work, and her commitment to working with young people.
Sessions with Katie Swinden
Dec 05 2017
12:15 - 13:15
Calgary Main Theatre