Nate Camponi
Co-Founder, Hell Fire!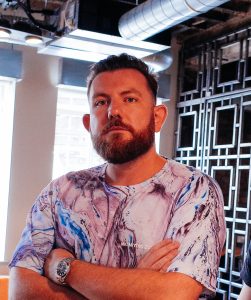 Nate Camponi stole his parent's VHS of Blade Runner when he was 12 and never looked back. He lived on a steady diet of international cinema he was far too young to watch that has inspired his creative work to this day. A 3 year stint at Leeds Metropolitan Film School surrounded him with likeminded people, but frustrated by the lack of practical work he immediately joined Manchester based production company Chief as a runner, furiously writing his own scripts on the commute. A couple of years of hard graft saw him catch a lucky break aged 22, directing his first commercial through Chief that paved the way for a successful 12 year career shooting big brand films all over the world for the likes of Johnnie Walker, Nike, Hyundai, NHS, Jack Daniels, Suzuki, Chivas, Nokia to name a few in addition to music videos for JP Cooper, Gabe Gurnsey, Band of Skulls and many more, collecting awards at Creative Circle, Virgin Media Shorts, Cannes Lions & D&AD.
The moment he met Andy (at a 10-pin bowling ally in Leeds) he knew there was a shared passion for storytelling and they became almost instant writing partners, choosing to focus on the untapped wealth of characters and scenarios in and around the small towns of Yorkshire where they both grew up. This lead to their first commission, a pilot for local TV called Make it Plumb which gained 400k views across the MADE in Leeds platform.
Nate has an unflinching excitement for storytelling, one that is hard to knock off track. He continues to write scripts, direct commercials and short films, two of which have shown at international film festivals in the past three years. He most recently co-founded Hell Fire! with Andy Doree. Through this brand new Leeds-based production company, he and Andy aim to discover young, fresh, grass-roots writing talent with the same level of enthusiasm for bringing unique stories to the screen.
Sessions with Nate Camponi