Phillip Covell
CEO, AVTN.TV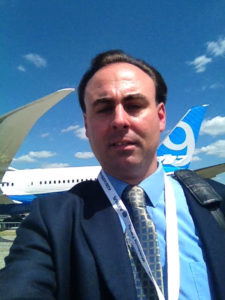 Phillip Covell is Co-founder and CEO of Business & Consumer News Startup AVTN.TV. The project seeks to raise investment to establish a New global news network based in London, New York and Singapore with focused news at its core. The project makes the case for AVTN (Aviation Television News) or the more cross-sector NewsNet247. Currently under consideration is the addition, or movement, of operations to Amsterdam in order to deal with the unique challenges of Brexit.
With over 26 years as a Broadcast and Film Industry Professional, Phillip's experience ranges from Equipment Facilities, Sales, Design and Manufacturing, through to Production and Crewing, from SME to PLC. While at VFG PLC and LEQ Ltd, he has supplied equipment to a wide range of Feature, Drama, Documentary, Commercial, Corporate and Music productions, and most of the World's established Broadcasting Corporations.
Phillip has conducted business in over 30 countries, and supported specialist equipment on more than 300 productions across the UK, Europe, Africa and Asia. He has lived and worked in Los Angeles and Dublin, and was responsible for establishing VFG Ireland.
As an apprentice, Phillip began his career at Equipment Facility Cinefocus Ltd. His training has included courses at Aaton, Chapman, Clairmont, the GBCT, Kodak, Leeds Met. University, Panavision, and Sony. As a member of both the GTC and GBCT, he sat on the latter's Board during 2001. Phillip champions the best in Business, Media and Aviation.
Sessions with Phillip Covell