Richard Russell
Creative Director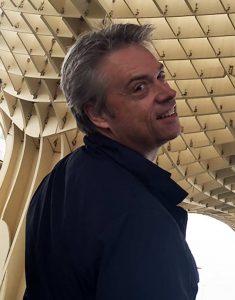 Richard is one of the last remaining people on earth to like advertising. In a world where the word itself has become dirty, where ads struggle to have any cultural impact, and where ad-blockers are rightfully seen as the only way to get these crass and uninvited distractions out of your online eye line, he refuses to give up on advertising.
Done right, an ad can be something useful and memorable that many millions of people can be touched by and respond to. No matter how many terrible ads are made, that truth remains.
In a long career, Richard has occasionally made things both useful and memorable, but maybe not as often as he'd like. He started at London's BMP in the mid-eighties and over the years has worked at some of London's greatest (and not so great) agencies on hundreds of different brands.
His best-known work was probably produced at Wieden + Kennedy, where he was responsible for much of the early years of the world-renowned Honda 'Power of Dreams' campaign – from the brand book that won the pitch, to the 'OK Factory' launch commercial, to the launch Print and Radio, to the later 'Banana' print ad, and the Diesel 'Grrr' TV spot. (Today, Richard's original 'Grrr' concept of 'Hate Something, Change Something'' is still being taught to underprivileged New York kids in workshops.)
In 2010, 'The Power Of Dreams' was voted 'Campaign Of The Decade' by Campaign magazine. Despite this accolade, he says that it's only his second- favourite campaign, but I think he's just saying that for effect.
Sessions with Richard Russell