Steve Dixon
Head of Metropolitan Police Film Unit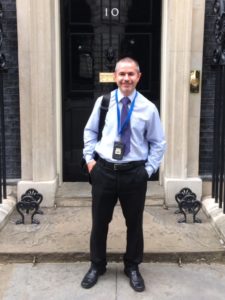 Steve Dixon is a serving Police Officer for the Metropolitan Police Service in London. Steve joined the MPS in 2002 and was part of a proactive crime and disorder team responsible for the whole of the 32 London boroughs. Steve is a qualified Police trainer, response driver and decorated with three commendations for bravery. In 2012 Steve was injured whilst in the execution of his duty which led to him having to leave front line Policing and became base manager at a traffic garage. In 2014 Steve joined the MPS Film Unit and was appointed Film Project Manager for the Avengers Age Of Ultron Marvel production filmed at Hendon training site.
Steve project managed the Avengers Age Of Ultron movie for over six months. The production arrived at Hendon in May 2014 and started filming in July 2014. On the first day of filming Steve was responsible for over 1000 cast and crew. The filming location had eight different built on site sets and at that time was classed as the biggest location film set in the world. Steve continued to work with the production to August 2014 where the Hendon site, after being blown to pieces with SFX was returned to its normal state.
Since 2014 Steve has worked on the MPS Film Unit which is responsible for working with and assisting commercial filming productions wishing to film in London.
Steve has worked with most filming productions when filming in the capital and his credits to date are Avengers Age Of Ultron, Lost in London, London Has Fallen, Paddington Bear 2, Spectre, The Mummy, Christopher Robin, Mary Poppins, Holmes And Watson, 6 Days, Lucky Man 1,2,3, Silent Witness, SS-GB, Bodyguard, Informer, Marcella, Wonder Woman, Justice League, Rellik, Liar, Hatton Garden Heist, Night In Hatton Garden, The Royals, Top Gear, Hard Sun, Yardie, Tomb Raider, Black Mirror, All The Devis Men, Hitmans Bodyguard, Peter Rabbit, The Crown, Cormoran Strike, Eastenders, Made In Chelsea, Guerilla, The Nutcracker, Conjuring 2, Transformers 5, Bourne, American Assassin, Sense 8, Kingsman 2, Humans, Sherlock…….Are just a few.
In January 2016 Steve was appointed Head of the MPS Film Unit where he continues to support filming in London.
Sessions with Steve Dixon