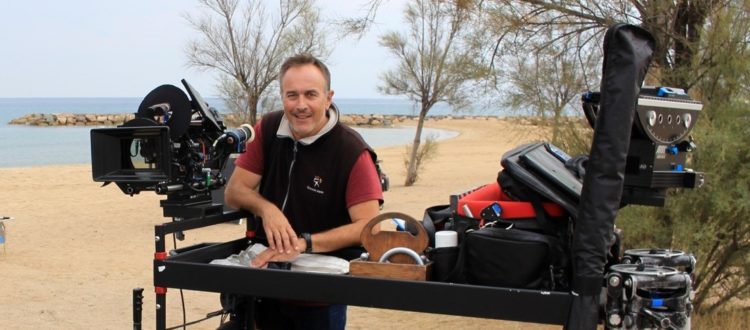 FOCUS talks to Michel Brussol of the Var – South of France Film Commission
Ahead of his return to the FOCUS event, we spoke to Michel Brussol of the Var Film Commission to discuss the major projects that have filmed in the territory over the last year.
Michel, you attended FOCUS 2016. What brings you and the Var Film Commission back to FOCUS this year? 
Many reasons, the first one is that FOCUS gives us the opportunities to meet producers and location managers from Great Britain and Europe and to be informed about the future projects concerning France. It's also the place to meet my counterparts of the European Film Commissions Network (EUFCN) as we are founding members of this association.
For me, FOCUS is also educational as a means of seeing how other film commissions are promoting their area and to discuss our current platform and how to improve it.
Can you please detail which region that the Var film commission covers for those who don't know.
The Var covers the region between Cannes and Marseille. These cities are not on my territory. My office is located in the most famous village in the world: Saint-Tropez! The main city is Toulon (well known for Rugby fans) and we are a part of the French Riviera and of the Provence…
What was the most common question you received from producers at FOCUS last year about the Var as a filming destination?
Everything to do with the tax rebate, funds, locations, crews, facilities, etc.
What productions, both French and foreign, have been shooting in the Var in the past year?
Last year we had:
Submergenceby Wim Wenders with Alicia Vikander and James Mc Avoy.
Le Redoutable by Michel Hazanavicius with Louis Garrel and Stacy Martin.
Happy Endby Michaël Haneke with Isabelle Huppert and Mathieu Kassovitz.
Riviera, created by Neil Jordan.
And this year:
Les Estivants by Valeria Bruni Tedeschi
Johnny English IIIby David Kerr with Rowan Atkinson
Gueule d'Ange by Vanessa Filho with Marion Cotillard
Kursk by Thomas Vinterberg with Colin Firth, Lea Seydoux
What makes the Var region a "film-friendly location" for producers and production professionals considering filming there?
You can find in the Var a vast array of exterior locations, magnificent landscapes, a preserved coastline, an incredibly varied raw environment, infrastructures, hilltop villages, small romantic ports and surprisingly unexpected backdrops.
In a sentence, how would you describe FOCUS to a producer who is thinking of attending FOCUS this year for the first time?
The only way to meet all of Europe under one roof.
How do you like the FOCUS venue, exhibition layout, organisation and facilities?
I do appreciate it, it's short, fast and efficient.
Many thanks Michel. Looking forward to seeing you at FOCUS.
FOCUS 2017 will take place at London's Business Design Centre, December 5th and 6th. To register your attendance for the event, click here.
Mini bio:
Michel Brussol is the longest serving Film Commissioner in France, having started in roll in 1996. He is also founding member of the European Film Commissions Network.
Working with other Film Commissioners and members of the Association Film Commissioners International, Michel trained in London, Vancouver and Brisbane.
Michel is always seeking new locations to anticipate future requests. His favourite part of the job is attracting a project to his territory when it was not in the an initial consideration of the Director.