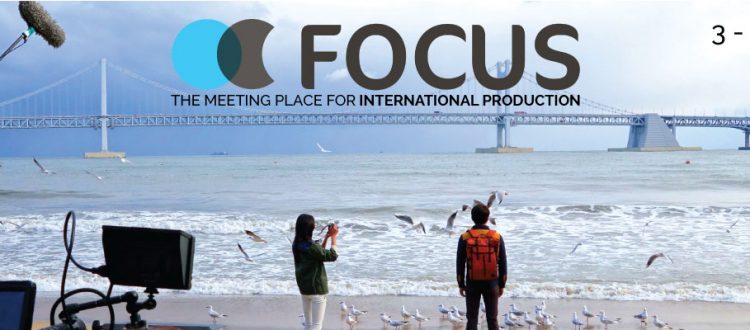 Registration opens for 2019 edition of FOCUS
FOCUS, The Meeting Place for International Production, returns to the Business Design Centre London on 3-4 December 2019 for its fifth edition. The event remains completely free to attend for industry professionals.
Once again FOCUS will be aimed at all the creative screen industries – including film, TV, advertising, animation and games – and is the only UK trade event where attendees can meet with content makers, film commissions, production services and locations providers from over 80 countries.
AT FOCUS 2019 delegates can discover filming incentives, locations and services, to maximise screen value – for all production types and budgets – right through from development to post-production. Meetings with exhibiting organisations can be pre-arranged using the online scheduler.
FREE registration includes the packed content programme, featuring a roster of over 150 expert speakers, who will address the key opportunities and challenges concerning the production industry today. The programme is developed in consultation with leading industry organisations, including the British Film Institute, British Film Commission, Pact, Directors UK, Advertising Producers Association, The Production Guild, ScreenSkills, UK Screen Alliance, Creative Europe Media Desk UK and Women in Film and TV.
FOCUS has established itself as an important date in the screen industry calendar. Dawn McCarthy-Simpson MBE, Pact UK Managing Director of Business Development & Global Strategy and Chair of the 2019 FOCUS Content Advisory Board commented "FOCUS is one of the top events that happen in the UK, where you can meet 70 countries, and find out incentives and partners and potential opportunities. A key factor is that it is free. FOCUS is inclusive and brings everyone together – a whole range of people at different levels of their career". Mikael Svensson, representing the Swedish Film Commissions said,"It's an incredible achievement to create such an indispensable event in such a short time".
"It's an incredible achievement to create such an indispensable event in such a short time".
Sustainability will continue to play a major role at FOCUS. For 2019, in association with AdGreen and BAFTA's albert, FOCUS will work with the Business Design Centre to reduce the carbon footprint of the whole event. Sustainability issues will be embedded throughout the content programme, addressing the environmental impact of the production industry at every opportunity . The Green Zone, showcasing eco-friendly companies and offering dedicated sessions at The Green Academy, will be expanded.
The extensive networking opportunities presented at FOCUS will be refined and expanded for the 2019 edition, offering bespoke brokering of relationships. FOCUS 2018 hosted thirty dedicated networking events, including a Producers Brunch in association with Variety, the Location Managers Christmas Drinks, the Advertising Producers Association Christmas Party and receptions by a wide range of film commissions including Italy, Thailand, Finland, Croatia, Estonia, Ukraine, Madrid, Creative England/FO:UK, Poland, Cyprus, Portugal and Marseille.
FOCUS will also continue to expand its international reach, creating additional formal partnerships and inviting overseas delegations. Over 30 associations from 20 European countries, representing producers, directors, location managers and other audiovisual professionals are affiliates for the 2019 edition of FOCUS.
For further information: Kate Hughes, Director of Marketing & Communications
kate@tlgfocus.com Tel: +44 (0) 7788 432852