Andy Paterson
Producer, Sympathetic Ink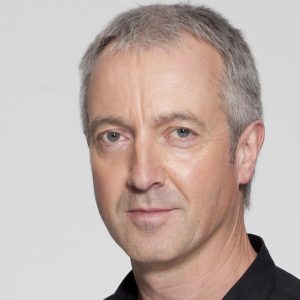 Andy Paterson's productions include Dear Mr Vidal, Tigers, The Railway Man and Girl With A Pearl Earring. Dear Mr Vidal, based on Jay Parini's memoir of his encounters with American writer and pundit Gore Vidal, stars Kevin Spacey, Michael Stuhlbarg, Douglas Booth and Freya Mavor.
Tigers, the true story of a young Pakistani whistleblower who took on a major pharmaceuticals corporation, debuted on the Zee5.com platform in 2018 after premiering at Toronto and San Sebastian. Co-written by Paterson with its Oscar-winning director Danis Tanovic, the film stars Emraan Hashmi, Danny Huston and Khalid Abdalla. The Railway Man, starring Colin Firth and Nicole Kidman, was adapted by Frank Cottrell Boyce and Paterson from Eric Lomax's account of his experiences on the notorious Thai/Burma Death Railway in WW2. It was released by Lionsgate in the UK and The Weinstein Company in the US. It won the 2014 SPA Award for Best Feature and the AACTA for Best Adapted Screenplay.
Girl With A Pearl Earring, with Scarlett Johansson and Colin Firth, was written by his wife and business partner, Olivia Hetreed. The film was nominated for 10 BAFTA Awards, 3 Oscars, 2 Golden Globes, 3 EFAs and 3 BIFAs and was a box office hit all over the world.
Previous productions include the Oscar and BAFTA-nominated Hilary and Jackie, starring Emily Watson and Rachel Griffiths, and the Oscar-winning Restoration, starring Robert Downey Jr, Hugh Grant and Meg Ryan.
Forthcoming productions include The Plutonium Club, a Cold War thriller set against the development of the British atomic bomb from a screenplay by Paterson and Hetreed, Mrs Robinson's Disgrace, Olivia Hetreed's directorial debut and The Astronomer and the Witch, directed by Michael Hoffman.
Sessions with Andy Paterson