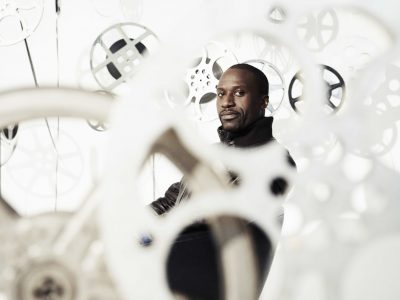 George Amponsah is a multiple award winning film maker who first started taking pictures in the 1980s  as a photographer and Super 8mm film enthusiast.
George's  most recent feature length documentary- The Hard Stop unpeels the true story behind the UK riots of 2011 following the death of  Mark Duggan who was shot and killed whilst being arrested in a 'hard stop' procedure by armed police. This incident ignited a riot that escalated into a week of the worst civil unrest in recent British history.
The Hard Stop is an observational documentary that follows the progress of two of Mark Duggan's closest friends: Marcus Knox-Hooke and Kurtis Henville, over the course of 24 months as they try to turn their backs on the criminal life whilst dealing with bereavement, imprisonment and unemployment. As they reminisce about the friend they knew, the media debate about who exactly Mark Duggan was and the judicial inquiry into his killing plays out as a national news story.
In 2008 George made The Fighting Spirit  a feature documentary which tells the story of three young boxers- two men and a woman who fight their way out of an impoverished shantytown in Ghana to the boxing arenas of Britain and America for the biggest prizes in the business.
The Fighting Spirit was produced with Guardian Films and funded by CBA DFID, Channel 4 Britdoc Foundation and ITVS. The Fighting Spirit premiered at The Sheffield International Documentary Festival and has recently been sold to BBC Storyville, European broadcaster –ARTE and The National Black Programming Consortium (USA). More information about the film can be seen at:  www.thefightingspirit.net
The Importance of Being Elegant  (a BBC film made by George in 2004) is about a bizarre cult of fashion lead by the flamboyant Congolese singer –Papa Wemba. The feature doc was produced and directed by George with Cosima Spender and aired on BBC2 as a flagship instalment of the channel's Storyville strand. The Importance of Being Elegant received widespread critical acclaim, was short listed for 2005's Grierson Award, and won Best Documentary at The Zanzibar and FESPACO Film Festivals.
George has worked with a number of established television production companies as a freelance producer/director making programs for all the major terrestrial broadcasters as well as many non –terrestrial.
George was one of the first filmakers to produce work for the Guardian Newspaper's ground breaking website and has since made many online films for the Guardian's £2.5 million fundraising initiative in Uganda: The Katine Project
George is a graduate of The UK's prestigious National Film and Television School where he won a Post-Office Scholarship to attend the documentary directing course. He now regularly works as a tutor at the National Film & Television School and The Met Film School and has recently been a tutor at Docubox, a film academy set up for aspiring film makers in Nairobi, Kenya.
Sessions with George Amponsah